GLUCOSAMINE TABLETS "Fushibushi-min"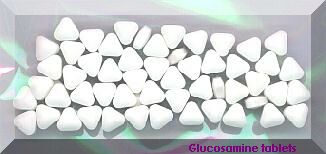 270 tablets of 250mg packed in a glass bottle

Deformed arthritis is a disease that causes joint deformation, pain and dysfunction due to aging of the joints and bones. It is reported that 500,000 patients with deformed arthritis and similar symptoms and several dozen times as many potential patients exist in Japan. The incidence of this illness increases from the latter half of the thirties and further increases from the fifties, rising up to one of every two persons in their sixties, then reaching its peak in the seventies with more female patients than males.

Glucosamine is one of the natural amino acids, and is widely distributed in the human body. Its role, deeply associated with in vivo elements, is very important, but such elements are reduced with aging or lack of exercise.

Glucosamine intake is known to supplement the essentials of life in vivo elements and improve various functions, thereby, maintaining healthy daily life.

The usefulness of glucosamine is highly evaluated in Europe and America, and its intake is widely popularized as a regular food supplement for health improvement.

Highly purified glucosamine is derived from hydrolyzed, desalted and purified red queen crab shell chitin.



Ingredients:

Glucosamine
** Formulated amount of glucosamine = 55% (137mg/tablet)
Lactose
Cellulose
Cane sugar ester




Nutritious Contents (per 9 tablets or 2.25g, a daily dosage)

Energy ........... 8 kcal
Protein .............. 0.6g
Lipid ....................0.1g
Carbohydrate.... 1.3g
Sodium ................. 0g
Glucosamine....... 1.2g (=137mg x 9 tablets)




Daily Dosage:

Take 8 to 10 tablets a day as a food supplement




Storage:

Store this product in a shady place, avoiding high temperature, humidity and direct sunlight.
Take all the tablets in a month or so after opening the bottle.




Expiration Date: 2 years after the date of manufacture


Packing:

One carton contains 4 inner cartons; one inner carton contains 6 bottles.
Each bottle is contained in a retail box shown in the above picture.
245mm x 359mm x 132mm, 5.9kg




Local Retail Price: JPY3,800 per bottle in a retail print box