GMT-CO Skin Care Jell
packed in 500g pump-up container
Functions like S.O.D. enzyme to remove surplus active oxygens

Freckles, wrinkles and sagging are caused by increased surplus active oxygen(=super oxides) under the skin.

People say that if you bask yourself in the UV, freckles appear. The fact is it is not the UV but active oxygen generated by the UV in the body that causes freckles,wrinkles and slacks on your skin.

Various skin troubles are caused by super oxides :-

Freckles ....
Super oxides oxidize tyrosine to form melanosite, resulting melanine pigmentation.

Wrinkles ....
Super oxides sever collagen and elastin in the inner skin and cause subsidence of the skin to make fine wrinkles.

Sagging ....
Super oxides stimulate fibroblast cells to hold down production of mucopolysaccharide and get their jelly-like state to dry up. Thereby, the skin sags down, succumbing to gravitation.

Skin being subjected to oxidization leads to freckles, wrinkles, sagging and melanoma.

Not only skin troubles but aging and various diseases are triggered by super oxides.

Why are so many physical troubles and damages induced by super oxides?

The answer is superoxides make the body being prone to get oxidized.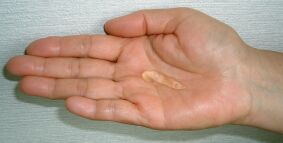 GMT-CO Skin Care Jell on the palm
FEATURES OF GMT-CO SKIN CARE JELL

The main ingredient is GMT-CO which works to erase harmful super oxides generated under the skin,
to boost up its cell activation and increase its moisture retention.
With this new Jelly-like stuff, trouble-less and dazzling skin you get !


GMT-CO SKIN CARE JELL & Basic Skin Care Lotion/Cream

Using the following lotion and cream, you usually complete the steps of Basic Skin Care procedure.

(1) Facial cleansing cream/ foam
(2) Face lotion/Skin refresher
(3) Nourishing cream/Whitening cream etc.
(4) Milky lotion/Skin milk

With GMT-CO SKIN CARE JELL, you can replace all these face care lotions and creams except for (1) facial cleansing cream/foam.
Very simple, easy and effective !
If you prefer, you can use (2) face lotion after (1)cleansing cream or foam, and then apply GMT-CO SKIN CARE JELL before or after (3) nourishing or whitening cream, as you like.


HOW TO USE GMT-CO SKIN CARE JELL

A. Facial Treatment:

1. After using (1) facial cleansing cream or foam, (and, (2) face lotion), take up an appropriate amount* of GMT-CO Skin Care Jell on the palm.
2. Apply the SKIN CARE JELL onto right and left cheeks , horehead, nose and chin with a tip of a finger,
3. Use fingers to adapt the SKIN CARE JELL softly from the center part of your face outward.
4. You can apply the SKIN CARE JELL two times around your eyes and mouth which you'd feel dry up.
* one or two pushes from the pump-up container

B. Body Treatment:

1. After taking a bath or a shower, tak up an appropriate amount** of GMT-CO Skin Care Jell on the palm.
2. Spiral it up softly with fingers and palms on any part of the body you want it to be adapted to.

** one or two pushes from the pump-up container to be applied to each part of the body.


INGREDIENTS & Effects


Water (base)
1.3-butylene glycol (moisture retention)
Glycerine (moisture retention)
Wine (antioxidation)
Rice bran/soy bean peptide-fermented (moisture retention)
Hyaluronate sodium (moisture retention)
Cat's-ear extract (anti melanin formation)
Corktree bark (antiphlogistic)
Dipotassium glycyrrhizinate (to prevent rough and dry skin)
Hydrolyzed glair (moisture retention)
Mayweed extract (moisture retention)
Bourtree extract (antiphlogistic)
Arnica (moisture retention)
Glucose (moisture retention)
Carbomer (base)
Sodium hydrate (base)
DPG ((moisture retention, pliability)
Natrium chloride (base)
Potassium chloride (base)
Calcium chloride (base)
Ethanol (disinfect, adstriction)
Phenoxyethanol (disinfect)

Local suggested retail price: JPY12,000 (500g net)





Back